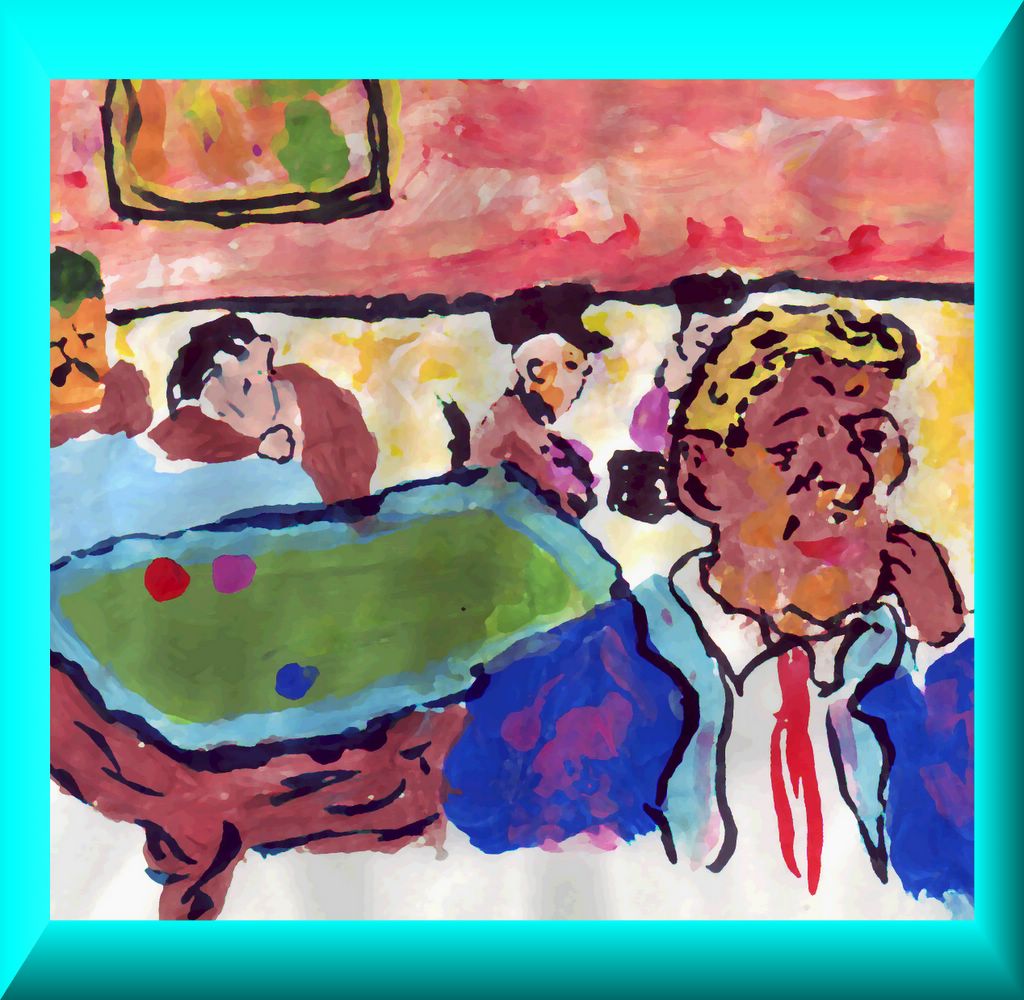 Illustration to the right is what we worked on for
The Third Estate Sunday Review
's "
Bully Boy amused by the Beltway Babies
." I didn't have time last night to weigh in on the
James Baker Circle Jerk
so let me note tonight that I will not be linking to or highlighting that nonsense report.
There are real issues to cover and all that crappy report and Bully Boy's 'consultations' this week are going to do is take the heat off of him to do something but they provide the cover to make it look as though he is doing something. He's doing nothing. As
Elaine noted tonight
, he's not even going to announce a 'new' 'plan' until January. There is no sense of urgency on his part and why should there be when the press can't stop yacking about that stupid report.
I keep checking
Rebecca
's site to see if she's posted the news yet and she hasn't. She said it was fine to note it this evening and it would make it easier for her when she does blog. So, if you haven't heard yet, she is pregnant.
Rebecca
's had some problems with pregnancies before but she saw a doctor today and she'll be taking extra precautions this pregnancy, so hopefully, this will be a healthy pregnancy and she'll become a mother in 2007.
She said she doesn't want anyone worrying and for everyone to just be happy with her.
It's probably been a very long day for her so if she doesn't blog, don't be worried. We've also all worked out a schedule where we can grab a post at her site anytime she needs to grab some rest. C.I. wanted a very complete schedule so we've got primaries and backups for each day. It will never be a case of it being, for instance, my night and I can't do it so nothing goes up. If it becomes my night and for some reason I can't post, there is a list of people. I call the next on the list, passing off the baton and either they cover it, or they move on down the list. Everyone has put their names down and we'll be covering it.
Rebecca
didn't know this morning she was pregnant. She wasn't feeling well, so
she blogged early today
. What she thought was a flu, C.I. realized was morning sickness.
Rebecca figures if C.I. figured out, someone else might as well so, after she and Flyboy were done at the doctor's, she gave her permission to pass the word along.
If you listen to
KPFA
you know David Bacon who speaks with Philip Maldari and Andrea Lewis each *WEDNESDAY* when he delivers the labor report. He has an important article entitled "
Are Democrats Heading Over a Cliff?
" (
Truthout
):
Having used Latino and labor votes to recapture control of the US Congress, some influential Democratic Party power brokers now seem intent on attacking the very base that produced their victory.
According to the William Velasquez Institute, seven of ten Latino voters chose Democratic candidates. A large percentage of Latino households have family members born outside the US, and millions of Democratic votes came from families where both documented and undocumented members live together. Union families voted for Democrats by about the same margin - seven of ten.
Democrats cannot win elections without Latinos and labor, yet conservative party leaders want to cooperate with Republicans on an immigration-enforcement program that targets them both.
At issue is the enforcement of employer sanctions, a provision of the 1986 Immigration Reform and Control Act. Sanctions bar employers from hiring workers who don't have proper immigration documents. They don't really penalize employers, but they do make holding a job a federal crime for an undocumented worker. Sanctions enforcement has led to the firings of thousands of immigrant workers, including many this year.
Newly appointed House Intelligence Committee head Silvestre Reyes (D-Texas), a former Border Patrol agent, wants this wave of firings to grow. Behind him is the party's eminence gris, Rahm Emanuel (D-Ill.). According to an interview earlier this year with The Hill Magazine, Emanuel thinks it's the key to winning support among voters who view immigrants as a threat. Even leading Washington lobbyist Frank Sharry, head of the National Immigration Forum, recently advised immigrant-rights groups that Democrats, having just won the election, should agree to this enforcement scheme in order to placate Republicans.
Rahm, Reyes and their Republican colleagues say sanctions have never been enforced on employers. "There has been almost zero enforcement," Rahm told The Hill.
Rahm is wrong. When the Clinton administration mounted its highly publicized Operation Vanguard program in the meat packing industry in 1998, more than 3,000 workers were forced from their jobs in just one enforcement action, according to the Immigration and Naturalization Service. The Democratic administration mounted other workplace raids as well. In Washington State's apple packing sheds, more than 600 people were fired in the middle of a union organizing drive the same year. Needless to say, with its leaders gone, the union lost.
If the Democrats in Congress support that plan, they are worse than cowardly and craven. Find new words because there are none to describe how despicable that will be and they will be.
Okay, Rebecca's "
pregnant
" is up. Be sure to read that. And here's C.I.'s "
Iraq snapshot
:"
Tuesday, December 12, 2006. Chaos and violence continue in Iraq; Dennis Kucinich declares his candidacy for the Democratic nomination for the 2008 presidential race; a bombing takes place in Baghdad that's so severe, with at least 70 now declared dead and at least 236 wounded, even the New York Times will have to take notice; the US military announces the deaths of four troops in Al-Anbar Province; a new report finds that the conditions for women continue to decrease worldwide; in the US, Medea Benjamin and Cindy Sheehan address the war; and impeachment continues to be discussed outside the halls of Congress with
Elizabeth Holtzman declaring
, "Frankly, if we had really debated whether there should be a war in Iraq, we may not have gone into Iraq. If the American people had been told the truth, if the Congress had been told the truth, I doubt very much that we'd be in this pickle now. How do you put a price tag on that? How do you estimate the consequences of going into a whole war from scratch on the basis of deceptions and lies?"

Starting with impeachement.
BuzzFlash interviews Elizabeth Holtzman
on the topic. Holtzman is a former district attorney and a former member of Congress. As a member of Congress, the committee she served on was the one that drafted impeachment charges against "Tricky Dick" Nixon. In January, Holtzman penned "
The Impeachment of George W. Bush
" which not only remains the strongest piece to run in The Nation throughout the 2006 year, it also kicked off the discussion (which had seemed dormant after the 2003 invasion of Iraq) and Lewis Lapham's "
The Case for Impeachment
" (Harper's), the
Center for Constitutional Rights
's
Articles of Impeachment Against George W. Bush
, David Lindorff and Barbara Olshansky's
The Case for Impeachment
(Olshansky is an attorney with the
Center for Constitutional Rights
) would quickly follow. More recently, Holtzman's published the book
The Impeachment of George W. Bush
.

In an
exclusive interview with BuzzFlash
, Holtzman was asked about pundits who say that impeachment will not happen and the fact that Nancy Pelosi took impeachment 'off the table' (in an
October interview with Lesley Stahl on CBS' 60 Minutes
). Holtzman responded:


We can't start and end the conversation with what political pundits have to say. First of all, our generation -- the American people living right now -- have a responsibility for preserving and maintaining our Constitution. Are we going to allow it to be shredded by a president? Then, if this president can get away with starting a war based on lies, with breaking the law willfully, what's the next president going to do? What's the precedent that's started here?
Secondly, it really doesn't matter what the pundits say, and it doesn't really matter what members of Congress have to say about impeachment. If the American people want impeachment, it's going to happen. The real problem is that the mainstream media won't take the issue seriously. They don't want to spend the time to understand it. And they've decided it's not going to happen, so they're not going to write about it.
The consequence is that many Americans don't understand that the framers of this Constitution 200 years ago understood that there would be a Richard Nixon, and they understood that there would be a George Bush. And they said: American people, you have a remedy. We're giving you a remedy. It's 200 years old. It's called impeachment. That's designed to remove a President who threatens our Constitution and subverts our democracy.
Watergate didn't start because the Congress wanted impeachment. Left to its own devices, Congress never would have done anything on impeachment. Left to its own devices, the press never would have investigated, except for Bob Woodward and Carl Bernstein. The rest of the press was completely unconcerned on the subject. They didn't care. They weren't aggressive. But the American people understand that this is their Constitution, this is their democracy, this is their country, and they have the power to do something about it.

On the issue of Congress, Ann Wright told
The KPFA Evening News
Monday, ". . . they're going to just let things evolve. And what we the people have to do is to put pressure on all of these oversight committees to have continual oversight committees investigations and I think there's going to be overwhelming evidence, through these investigations, so damning to the administration that, at that point, there will be a collective effort by the Congress to hold accountable people who have broken US law and that, probably, will lead to impeachment."

Echoing that thought, Cindy Sheehan
stated on Democracy Now! today
that the movement for impeachment has to come from the people and then "Congress will have the courage to do the same thing." On the same broadcast,
Medea Benjamin noted
that "nothing is off the table."

Also yesterday on
The KPFA Evening News
, a news conference was held on The Lancet Study and among those attending was US Congress member Dennis Kucinich who declared, "There have been a staggering amount of civilian casualites." The Lancet Study found over 655,000 Iraqis had died since the beginning of the illegal war. Also noted was that Kuccinich would declare his candidacy for the Democrat 2008 presidential nomination today. Mark Mericle reported that Kucinich "doesn't think his fellow Democrats are heeding what he called the anti-war message sent by the voters this year."


Joe Milicia (AP) reports
on Kucinich's announcement today quoting from the presidential primary candidate stating, "I am not going to stand by and watch thousands more of our brave, young men and women killed in Iraq. We Democrats were put back in power to bring some sanity back to our nation.We were expected to do what we said we were going to do -- get out of Iraq."

Kucinich's declaration comes at a time when the deaths of US troops continue to mount.
Michael R. Blood (AP) reports
on the Santa Barbara display of white crosses, each marks the death of a US soldier, that began in November 2003 (when the death toll stood at 340)
and last weekend numbered 2928.
Blood notes
that "the nation approaches the grim milestone of 3,000 war fatalities" and ICCC's current count of US troops who have died in Iraq since the start of the illegal war is
2936
with the count for the month of December thus far standing at
46
.

The count includes
today's announcement by the US military
: "One Marine assigned to Regimental Combat Team 7 died Monday from non-hostile causes while operating in Al Anbar Province.Three Marines assigned to 3rd Marine Aircraft Wing died Monday from wounds sustained due to enemy action while operating in Al Anbar Province." The
US military also annouced today
: " A 13th Sustainment Command (Expeditionary) Soldier died of apparent natural causes near Diwaniyah Dec 11. The Soldier lost consciousness andwas transported to a Troop Medical Clinic where medical personnel were unable torevive him."

As all of the above is announced and violence again rocks the capital in Iraq, Alexander Downer, Australia's foreign minister, grasps desperately for a little face time by
declaring that the United States cannot withdrawal from Iraq
.

Back in the real world, the chaos and violence continue.

Bombings?

In Baghdad's Tayaran Square today, many have died and many more were wounded as a result of a bombing that may have resulted from more than one bomb.
Sudarsan Raghavan and Debbi Wilgoren (Washington Post) report
that it was a car bomb -- "265 pounds of explosives packed into a Chevrolet pickup truck" while
Thomas Wagner and Qais Al-Bashir (AP) report
this was followed by another car bomb ("thirty yards away") and the two "shattered storefront windows, dug craters in the road and set fire to about 10 other cars."
Ross Colvin (Reuters) notes
that the pickups was used to lure day laborers to the truck.

Raghavan and Wilgoren quote
eyewitness Jabbar Yousef who states: ""People were running in every direction . . . They were clutching their heads, legs and hands. There was blood everywhere." The
Times of London reports
that the first explosion came from a BMW that hit a police car, drew a crowd and then the Chevy pickup "ploughed into the crowd and exploded."
They quote
eye witness Khalil Ibrahim stating, "When the other bomb went off seconds later, it slammed me into a wall of my store and I fainted" (Ibrahim has "shrapnel wounds to his head and back"). The
Times of London describes
the scene: "Mangled bodies were piled up at the side of the road partially covered with paper and the impact of the blast severely damaged two nearby buildings."
Reuters places
the toll thus far at 70 dead and 236 wounded.


Wagner and Al-Bashir also note
the exposions of two roadside bombs ("about a mile away") that wounded at least two police officers and seven other civilians.
Reuters reports
a "sucide car bomb" in the Radwaniya section of Baghdad that wounded eight and killed one person (besides the driver of the car), while in Kirkuk five people were left dead and 15 wounded in another car bombing and a mortar attack in Riyadh that killed "a mother and her two children and wounded two others".



Shootings?


Thomas Wagner and Qais Al-Bashir (AP) report
that the AP's Aswan Ahmed Lutfallah was shot dead in Mosul while filming a "clash" that broke out between police and another group.

Reuters reports
that two police officers were shot dead "near the town of Hawija."

Corpses?


Reuters reports
that 47 bodies were discovered in the capital, four in Mosul, and on in Kirkuk (the last five were all shot). Yesteday's corpses didn't make the snapshot. Sandra Lupein noted on Monday's
The KPFA Evening News
that at least 46 corpses were discovered in Baghdad alone.


Meanwhile, a new report by
Unicef
notes the underrepresentation of women in the political process. The report is entitled "The State of World's Children 2007: Women and Children: The Double Dividend of Gender Equality." [An overview can be found
here
and a link to the report in PDF form as well.]


Al Jazeera notes
Unifem's Noeleen Heyzer who told the UN Security Counil two months ago, "What Unifem is seeing on the ground -- in Iraq, Afghanistan, Somalia -- is that public space for women in these situations is shrinking. Women are becoming assassination targets when they dare defend women's rights in public decision-making." [On Saturday's
RadioNation with Laura Flanders
,
MADRE
's Yanar Mohammed addressed the issue of the assassinations of women in Iraq.]


Reuters reports
that the United Nations cited the report today in their comments on life in Iraq for women "where violence is curtailing their freedoms and poverty is limiting their access to basic services including health care, the U.N. Children's Fund (UNICEF) said in a statement" and "their rights risk slipping away" as a mere "14 percent of Iraqi women between 16 and 60 years old are currently employed, against 68 percent of men, U.N. figures show. Women leaving home to find work puts both them and their children at risk
. . . threats to girls attending school on the increase, more and more families are being forced to choose between education and safety for their daughters'. The UN also noted that 25% representation of women in Iraq's 'government' remains "disproportionately low".


Two women in this country continuing to activism are
Cindy Sheehan
and
Medea Benjamin
who were convicted of trespassing at the UN Mission
yesterday
in a Manhattan court along with
Missy Comley Beattie
and
Rev. Patti Ackerman
for the apparent 'crime' of delivering a petition (with approval from the UN Mission ahead of time). Benjamin and Sheehan were interviewed by Amy Goodman on today's
Democracy Now!
addressing the trial and trespassing conviction. [Click
here
and
here
for the interview -- audio, video or text.] Sheehan observed that possibly the United States' UN Mission was attempting to demonstrate that "there agressive policies towards the world are the same they use towards peace woman at home." Sheehan noted that the charge of trespassing was what they were originally charged with and should have meant they were issued a court summons; however, they were told by police that higher ups had decided to add charges (these were the charges the jury found the four women not guilty of) so that the women could be held in jail overnight.

Sheehan noted that the US is spending ten million dollars (US) an hour on Iraq. Sheehan: "We can't allow our elected officials to say that they are against the war if they vote for more money" for the war. Benjamin "I think our role in the peace movement is to say 'Bring the troops home now.'

Of the obstacles to the peace movement in the near future, Medea Benjamin observed that "what I see as the real danger ahead is the peace movement thinking 'Ah the democrats are coming to power. Oh, there's a plan out there. Let's give them a little time.' This is the hardest time for the peace movement and this is when we we have to be the strongest. We have possiblities now coming up in January as soon as they are sworn in in the new Congress -- we have to be there January 3rd and 4th,
Gold Star Families for Peace
,
CODEPINK
and other groups are planning on being in Wahsington DC we have a big mobilzation.
United for Peace and Justice
is organizing for January 27th. We have the next anniversary of the war coming up, March 17th. We've got to be out on the streets. We've got to be in the offices of our Congress people. If not this war is going to go on and on and we're going to be facing another presidential election with two pro-war major candidates, from the Democrats and the Republicans."


Also on today's Democracy Now!,
Amy Goodman interviewed
lefty mag Poster Boy Sherrod Brown and asked him what he would say to US war resisters such as
Ehren Watada
who think the war is immoral and illegal and the poster boy replied, "I don't know, I don't know what you say to them." [
Goodman interviewed Watada's mother, Carolyn Ho, yesterday
.] When asked by Goodman if there should be "pressure on the military not to prosecute these men and women who . . . are saying the war is wrong," Poster Boy replied, "I don't know. . . . I don't know the answer to that."

Possibly had the leading magazines of the left, The Nation and The Progressive, put war resisters on the cover or printed even one article on them in 2006, the Poster Boy might have been prompted to consider the issue?

The Progressive ran two photos, November 2006 issue, in their multi-page photo eassay. The two photos (by Jeff Paterson of
Not In Our Name
), on a page of five photos, were of war resister Ricky Clousing. The Nation has provided nothing in their print edition. ["Leading" is based on circulation.
Left Turn
has published an article, in print, on Watada.
Off Our Backs
and
Ms
. have dedicated entire issues to war and peace this year.] While the New York Times and the Washington Post, two leading mainstream, daily papers, have covered the war resisters (the Times has done major stories on both Watada and Clousing) and a leading wire service (the Associated Press) has significantly covered the war resistance within the US military, leading magazines of the left continue to avoid the topic and 2006 may end without either The Nation or The Progressive providing one single print article on war resisters. No wonder the Poster Boy feels comfortable avoiding the issue.


While the magazines have repeatedly avoided the issue, one of the Iraq stories of 2006 has been the war resistance within the military.
Kyle Snyder
,
Ehren Watada
, Darrell Anderson, Joshua Key, Ivan Brobeck, Ricky Clousing, Mark Wilkerson, Camilo Meija, Pablo Paredes, Carl Webb, Stephen Funk, David Sanders, Dan Felushko, Brandon Hughey, Jeremy Hinzman, Corey Glass, Patrick Hart, Clifford Cornell, Agustin Aguayo, Joshua Despain, Katherine Jashinski, and Kevin Benderman are part of an ever growing movement of resistance within the military. Speaking last Thursday with Nora Barrows-Friedman on
KPFA
's
Flashpoints
, Kyle Snyder noted that more war resisters who have not yet gone public are planning to in the coming months. (Snyder also noted that he meets war resisters who have self-checked out as he speaks around the country.)

The failure of the leading magazines of the left to cover this story stands as one of the biggest barriers of a free flow of information on the issue of the illegal war. It also calls to question, for many politically active college students across the United States, the magazines' committment to ending the illegal war -- more so for The Nation which is a weekly and which managed to mention Carl Webb in an article this year but failed to note that he was a war resister. (Webb was quoted in the context of an article on the aftermath of Hurricane Katrina.) [For what is focused while Iraq is avoided see the parody "
The Elector
."]

While they've played the quiet game on the topic, information on this movement of war resistance within the military can be found at
Center on Conscience & War
,
The Objector
,
The G.I. Rights Hotline
, and the
War Resisters Support Campaign
.
Courage to Resist
offers information on all public war resisters. And
Appeal for Redress
is collecting signatures of active duty service members calling on Congress to bring the troops home -- the petition will be delivered to Congress next month.




the washington post
sudarsan raghavan
cindy sheehan
medea benjamin
david lindorff
elizabeth holtzman
buzzflash
center for constitutional rights
lewis lapham
amy goodman
democracy now
radionation with laura flanders
laura flanders
sex and politics and screeds and attitude